Day 1
Why would we visit Vancouver British Columbia two consecutive years?  The answer is, it is of the most beautiful settings of any world city.  Vancouver is framed by majestic coastal mountains that showcase the city's striking skyscrapers.  The city is rich in First Nation history and it offers travelers fine dining, sights, and lodging.  We couldn't wait to return.
Our Vancouver revisited trip began Thursday, with a pleasant Delta flight from Des Moines, Iowa to Minneapolis, and on to Vancouver.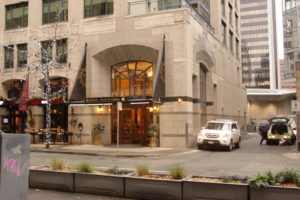 This being a travel day, meant we arrived in Vancouver early in the afternoon and took a taxi to our hotel, The Executive Hotel Le Soleil, 567 Hornby Street in downtown Vancouver.  The hotel is centrally located, and boasts a pleasing, elegant decor.  We revisited our favorite Vancouver a.m. eatery for dinner, Lennox Pub on Granville Street.  Their bangers and mash were just as delicious this year as last.  In case you've never sampled bangers and mash, they are three tasty sausages atop a mound of creamy mashed potatoes–all drizzled with a beef gravy.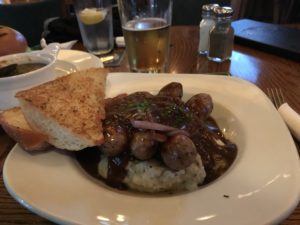 After a brisk walk back to our hotel, we called it a day.
Day 2
Downtown Vancouver boasts numerous cafes for breakfasts.  We revisited the Joyeaux Vietnamese Cafe 551 Howe Street for a traditional breakfast.  While sipping the freshly squeezed orange juice there, we overheard neighboring customers chatting in French.  Next, we hoofed it over to the Burrard Street Sky Train Station 625 Burrard Street and purchased a compass card–the card needed to take public transportation (bus, sky train, and sea bus vehicles) in the city.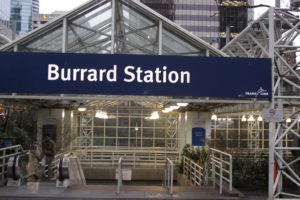 On the corner of Duinsmore and Hornby Streets, we made a pit stop at Starbucks for cocoa and coffee–a time to celebrate our success at successfully purchasing  compass cards (and uploading $60 on them) from a vending machine at the Burrard Street station.
Our morning highlight was a revisit of the Vancouver Art Gallery, 750 Hornby Street.  Kathleen Bartels, the gallery director, is successful in recognizing traditional art as well as vibrant, contemporary art.  We thoroughly enjoyed the five excellent exhibits on display.  Dominating the gallery's first floor was an impressive exhibit lent to the Vancouver Art Gallery by Queen Elizabeth II.  Certainly, the exhibit "Portrait of the Artist:  An Exhibition From the Royal Collection," validates the Queen's affinity for portraiture.   One segment of the art includes self portraits and features several outstanding pieces including a black and white chalk self portrait by Thomas Frye, a black and white chalk portrait by Rubens, an etching by Lucian Freud, a woodcut by Albrecht Durer, a pencil drawing by Francesco Bartolozzi, and my favorite–a red chalk portrait of Leonardo da Vinci circa 1515 by Francesco Melzi.  The Melzi portrait,done by da Vinci's student when da Vinci was older, is the only reliable surviving portrait of Leonardo da Vinci and captures his thoughtful, intelligent eyes. Another first floor gallery exhibit, "Carol Sawyer the Natalie Brettschneider Archive," showcases letters, photographs, and paintings that reconstruct the life of fictional artist Natalie Brettschneider. The gallery's second floor features a contemporary art show "Entangled:  Two Views on Contemporary Canadian Painting; the exhibit is divided into two sections:  art as idea as painting and performative painting.  Striking, were enamel-chalk pieces by Gerald Ferguson and dye on canvas pieces by Colleen Heslin. On the gallery's third floor, we studied  two exhibits:  "True Nordic:  How Scandinavia Influenced Design in Canada" and "Gordon Smith:  The Black Paintings"–both unique.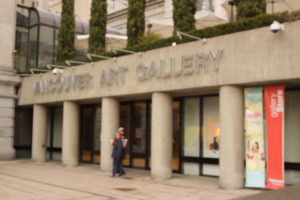 We enjoyed an early dinner at The Keg before walking ten-or-so blocks to Rogers Arena, 800 Griffiths Way to attend a professional ice hockey game between the Vancouver Canucks and the San Jose Sharks. We were looking forward to watching this highly rated NHL team, one of whose teammates, Darrel Sedin, recently scored his 1,000 career point.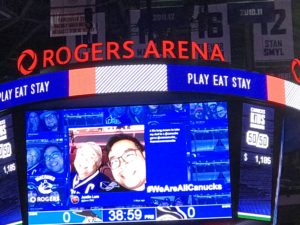 The Rogers Arena administrative staff kept us and the  other 15,000-some fans involved in the game with challenges, music, guided  cheers , contests, and photo selfies.  The Canucks under the coaching of Travis Green got off to an early scoring opportunity.  Throughout the game, the Sharks and Canucks both showed expert offensive and defensive maneuvers, but the Canucks pulled out an overtime victory over the Sharks, four to three.