Day 3
No surprise:  our day began with breakfast at Joyeaux Cafe.  We learned that even though the restaurant menu calls Jerry's breakfast of choice, oatmeal, "porridge", the waitress  calls it "oatmeal" like those of us "from the states" do.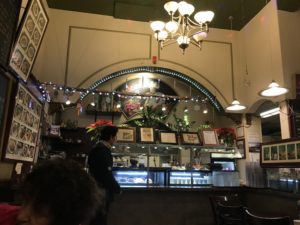 (When Canadians asked us where we were from, we learned to always answer "from the states." This makes sense.  After all, how many Americans can name the Canadian provinces from west to east?? If you can't, use the mnemonic device:  BASMOQ  NNN&)
Armed with our public transportation compass cards, we walked a couple of blocks over to Granville Street and hopped on a route 50 bus headed for Granville Island.  We take the Des Moines buses a lot, so it was interesting that instead of swiping a bus card to get on a bus, the Vancouver bus drivers expect passengers to "tap" their compass cards on a reader device at the front of the bus.  After a ten-minute ride, we crossed the Cambie Bridge and exited the bus at Andersonville Street on Granville Island.  Granville Island was once a grungy industrial area, but is now considered one of Vancouver's main entertainment and tourism hubs.  An arched well-lit sign welcomed us to the wooden walkway leading along a marina and into the area.  We were impressed with the winding quaint streets  dominated by art galleries, restaurants, and shops.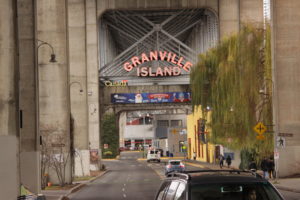 One of the island's anchors is the public market which features fresh vegetables, fresh fish, and homemade crafts.  We were impressed with the contrast of apartments and quaint shops featuring a myriad of items including First Nation carvings and prints.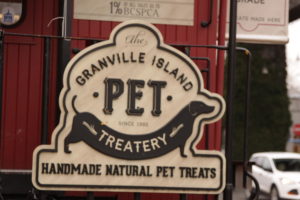 We met a woman  who had just finished kayaking along the island; she shared that although the temp was a little cool (in the forties), the experience was "wonderful."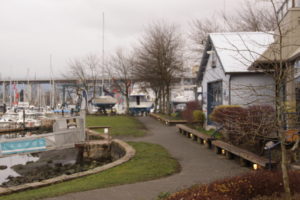 Back from Granville Island, we walked back to the Vancouver Art Gallery to view the Emily Carr-Lui Shau Kwan art exhibit which opened today.  Why does the gallery feature these two artists in the same show?  The answer is that Carr and Kwan both use nature as the basis for their subject matter.  A quote by Kwan posted near the exhibit says, "Painting starts from nature and harmonizes with ones own personality."  Carr's pieces include charcoal and oil on paper and oil on canvas.  Her paintings create foliage out of fragmented geometric shapes and she utilizes large wispy brush strokes to create an ethereal effect.  Complimenting Carr's work, are Lui Shou Kwan's ink on paper works.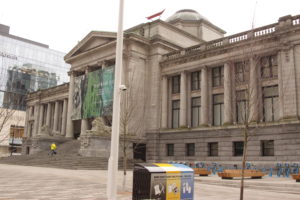 One of our favorite Kwan pieces, "Path Towards Guan Yin Grotto" makes use of  a "crab-claw" technique in which he thrusts his brush onto paper and ink spots scatter creating random patterns.  Kwan's work also features abstract natural subjects, but also incorporates aspects of classical Chinese ink painting. A small area of orange paint in each painting adds striking contrast to the black and gray ink shapes and letters.
Vancouver has a bustling underground shopping mall, Pacific Centre, where we ate a tasty Asian lunch before taking a break back at LeSoleil.
"When in Rome, do as the Romans"–we wanted to view the Canadian-born Cirque du Soleil while here.  In the evening, we elected to catch the Cirque du Soleil show "Kurios:  Cabinet of Curiosities" which premiered in 2014 in Montreal. We cabbed it to the Concord Pacific Place where we entered a series of connected tent-like structures, and sat in section 203, row L.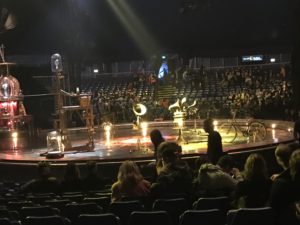 The show's plot is simple:  a 19th century inventor invents a machine that defies the laws of time, space and dimension in order to reinvent everything around him.  The show's music is masterful–both the vocal and instrumental pieces–and the acrobatic acts are astounding physical feats the performers seem to enact effortlessly.  One of our favorites was the "reaching-for-the chandelier" act.  Like other Cirque du Soleil shows, this one is a masterful performance, high in creativity.
Day 4
Two of Vancouver's oldest churches, Anglican Christ Church Cathedral and Our Lady Holy Rosary Cathedral are located in Downtown Vancouver.  Today, being a Sunday, seemed like the perfect time to visit both cathedrals. The Anglican Church of Christ Cathedral is located at 690 Burrard Street.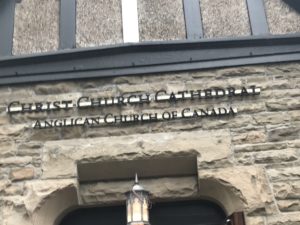 Its history began in 1889 when the basement was built; on October 6, 1889, the opening service was held for 12 parishioners; the church was completed in 1892.  When we stepped into the sanctuary, we were amazed at the beauty of the church's Gothic architectural style and the beautiful cedar beams and planking which were crafted from old growth Douglas fir.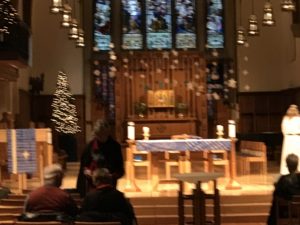 A greeter explained that there have only been minor renovations on the church–a new roof and a refinished floor.  She added that Princess Diana and Prince Charles have worshiped here. Jerry admired the interior as well and said that, "it feels like Robin Hood could come in the door at any time."
A second historical cathedral in downtown, the Metropolitan Cathedral of Our Lady of the Holy Rosary , commonly called the Holy Rosary Cathedral, is also a significant historic and religious landmark in Vancouver.  The cathedral is located at the intersection of Richards and Dunsmuir Streets.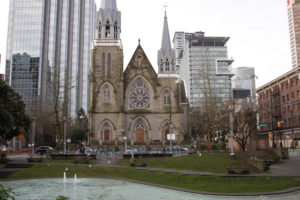 Its construction began in 1889 on the site of an earlier church and it was  officially opened on the Feast of the Immaculate Conception December 8, 1900.
The cathedral is built in French Gothic revival style with the exterior walls built from sandstone originating from Gabriela Island, and the foundation built from granite.  During the morning mass, we sat beside one of the eight interior columns made from red Sagliola marble.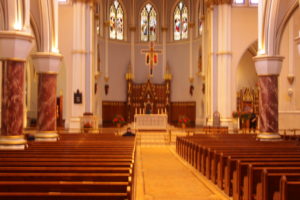 The decorated light blue interior walls offer a peaceful worship atmosphere.
Being fans of Des Moines Civic Center and Playhouse theatrical productions, we wanted to watch a local Vancouver play while in the city.  Fortified with Starbucks coffee and cocoa,  we attended a matinee of "The Day Before Christmas" presented by the Goldcorp Stage at Vancouver's BMO Theater.  The play was one-hundred percent enjoyable comedy.  Alex, the main character, is a perfectionist who is desperately holding fast to her Christmas traditions while juggling family and work.  Alex loses control and her life becomes disastrous.  We thoroughly enjoyed this two-hour production. Actors Jennifer Copping  (Alex), Paul Herbert (Alan), Daren Dyhengco (Max), Jay Hindle (Keith), Julie Leung (Brodie), and Curtis Tweedie (Dirk) all gave stellar performances.  The director, Chelsea Haberlin, did a great job integrating humorous "Skype conversations" between Alex and her brother Keith.  The theater's "horseshoe seating arrangement" allowed all attendees to sit close to the central stage.  An outstanding theatrical experience.
Our cab driver dropped us off at the Lennox where we had a great fish-and-chips dinner.  Interestingly, ALL the TVs were tuned into the Canucks vs. Flames hockey game.  When we headed out the door, the Flames had scored one goal.  Today's weather was chilly and a light rain fell throughout the day.Because of its proximity to the Japanese current, there are moderate temps here and a lot of rainfall.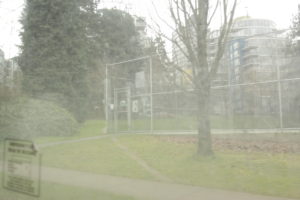 The lawns are still very green and restaurants keep their outdoor seating areas stocked with tables and chairs (unlike Iowa, where tables and chairs are packed away in preparation for winter snows).