Day 5
We dedicated today to getting a general overview of the entire Vancouver area.  To do this, we walked a few blocks North along Hornby Street to Canada place, a large welcoming building on the Burrard inlet.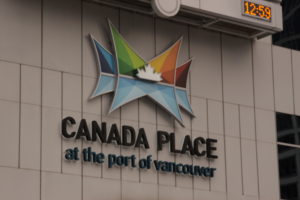 Low clouds decorated the distant coastal mountains.  In front of the Canada Center, we purchased tickets for the Vancouver Hop-on-hop-off bus.  On this lengthy narrated tour, we learned about the city's key physical features, historical neighborhoods, and important structures.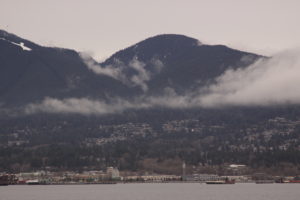 The Vancouver Convention Center West is a striking building that boasts a LEED Platinum rating.  We learned that this striking building has a green roof which is landscaped with 400,000 indigenous plants and grasses from Gulf Islands.  The roof boasts several bee hives from which honey is extracted and used in foods for convention guests. The tour continued South along Burrard Street and then turned West along Robson Street.  Robson Street, one of the first streets in Vancouver, was named in honor of John Robson, Premier of British Columbia from 1889-1892.  Early on, the street hosted a wide variety of small specialized shops.  Then in the 1950s, the street became populated by European storekeepers who established delis, markets, bakeries, and fashion boutiques.  Robson Street is now packed with traditional and contemporary businesses and restaurants.
One of the most striking sights in the Vancouver area is Stanley Park.  This 1,000-acre park was first home to Burrard, Musqueam, and Squamish First Nation people.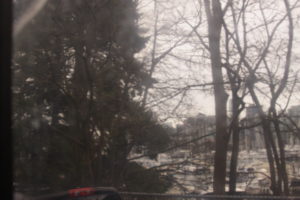 Upon entering the park, we were awed by the dense forests, numerous rose gardens, and surrounding waters of Vancouver Harbor and English Bay.  The park features forest trails, beaches, lakes, and areas of towering totem poles.  We saw dozens of people walking along the seawall and bicycling along the island trails.  The park was named for Lord Frederick Stanley, Governor General of Canada in 1888 and was set up when Vancouver was a pioneer city as a place for citizens to recreate themselves through active sport and peaceful relaxation. From the park's Prospect Point, we got a great view of the inlet, the Lion's Gate Bridge, and incoming large ocean vessels.
After exiting Stanley Park, we traveled along Beach Avenue,made a loop up Hornby Street, crossing Burrard Bridge to Kitsilano and Granville Island.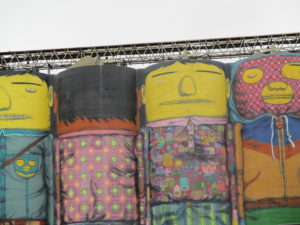 Next, we traveled past Yaletown, a comunity dominated by towering condominiums.
One of Vancouver's most striking structures is its public library–a unique structure with a myriad of front steps designed for people to sit on and mingle.  A large lit sign in front of the library reads, "THE WORDS DON'T FIT THE PICTURE." The library's architecture is some of the most spectacular we've observed.  It is a nine-story rectangular building surrounded by a free-standing, elliptical colonnaded wall.
Our bus took us through Chinatown–the third largest Chinatown in North America–where we observed colorful signage and interesting shops and restaurants.  We can't wait to tour this area up close tomorrow.  Winding up the tour, was Gastown, an original settlement that became the core of Vancouver.  The area framed by Water Street, Columbia Street, Hastings Street, and Cambie Street was the early city boundaries in 1870.  Back at Canada Place, we hopped off the bus after an informative, interesting tour.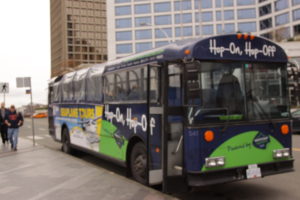 Day 6
After another breakfast at the Joyeaux Cafe, we walked down Howe Street in a light rain, turning onto West Pender Street to our destination:  Chinatown.  Ahead of us, we quickly recognized the welcoming Millennium Gate on Pender Street, a symbol of Chinatown.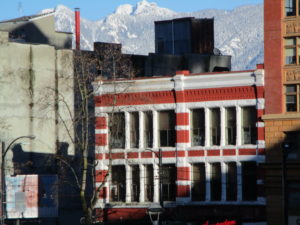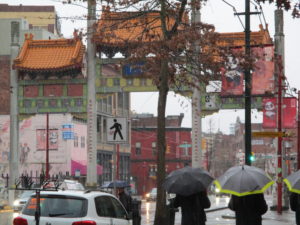 This area of Vancouver has a rich history; by 1920, there were some 1,000 Chinese immigrants settling the area known as Shanghai Alley and Canton Alley.  In 1904, Canton alley was created as a Chinese style courtyard surrounded by two parallel buildings running South from Pender Street. Soon, opera houses, stores, and cultural centers were established.  We are impressed with Chinatown today–it is a clean, well-decorated area full of shops, restaurants, and cultural opportunities.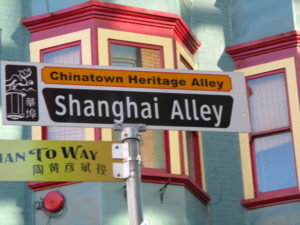 We went into the Sincere Gift Shop in Chinatown to purchase some "lucky money" envelopes–envelopes used to gift money to children for their birthdays and New Years.  We wanted to take them back home to put in granddaughters and nieces Christmas stockings.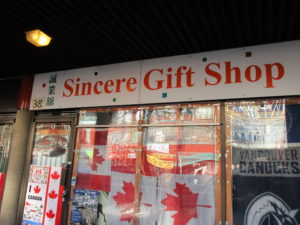 The shop owner said she didn't have any red lucky money envelopes, but sold me some gold ones–gold ones, she said, meant even a "higher level" of money gifted.
On the return walk from Chinatown, we made a pit stop at Blenz–a coffee shop on the corner of Richards and Hastings Streets.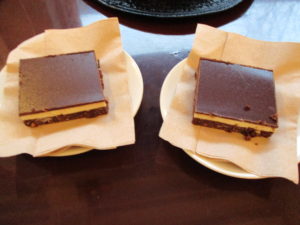 To accompany our coffee and cocoa, we sampled Nanaimo bars–a revisit of a chocolatey bar with cream filling and chocolate icing "invented" by a woman in the Canadian city Nanaimo.  A wet snow fell onto the streets and sidewalks; walking was easy until the wet snow began to stick to pavement.
Off an another adventure–a short walk down Hastings Street to Harbour Centre–a 28-floor office building with a spectacular observation area on top–The Lookout.  We took an exterior glass elevator up to the Lookout–traveling the twenty-eight floors in less than forty seconds.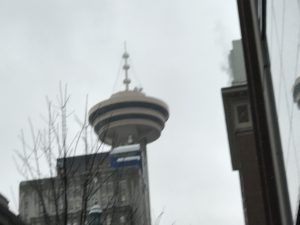 The Lookout opened in 1977 and was dedicated by astronaut Neil Armstrong.  Its 553 foot height above sea level gave us the opportunity to make a 360-degree view of the entire Vancouver area.  From the spacious windows along the exterior of the Lookout, we recognized geographical forms, sights, and businesses we had previously traveled by on land, plus several distant landforms.  Informational signs below the window showing the site explained what we were viewing.  We enjoyed seeing Rogers Arena where we had attended a Canucks game, the Yaletown region, Canada Place, and Stanley Park.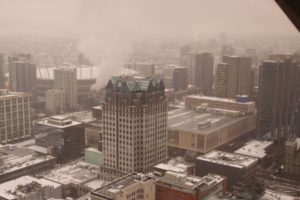 Heavy fog in the west, prevented us from seeing the San Juan Islands, Georgia Strait and distant mountains. The Lookout is a wonderful way for Vancouver visitors to see this impressive city and neighboring areas.
Dinner. . . yes, back to Lennox Pub, this time for their Shepherd's Pie.  Delicious.  Fortunately, the wet snow that made the streets slippery earlier, melted as the day progressed and walking home from the pub was easy in the light rain.
Along Pender Street, is Cartem's Donuterie.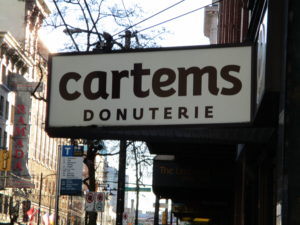 We stopped in for a break and observed several employees busily working inside baking and icing donuts.  We enjoyed the smoked walnut maple glazed donuts with our coffee and cocoa.
As we near the end of a fantastic revisit to Vancouver, we wish to take our hats off to the management and staff at our Executive LeSoleil Hotel.  Our room was a pleasant suite with a separate bedroom, restroom, and sitting room–clean, comfortable, and well-stocked.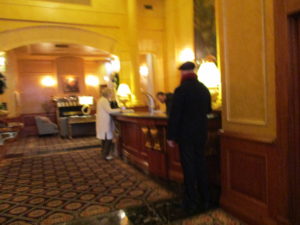 Throughout our stay, the staff eagerly assisted us with procuring cabs, answering questions, and giving us tips on restaurants and sights to see. The same can be said for the people of Vancouver–a city teeming with friendly, helpful people.