Part 1:  Travel Plans
Surrounded on three sides by ocean, the town of Tofino lies at the tip of the Esowista Peninsula on the western side of Vancouver Island off the western Canadian coast.  Tofino, discovered by Spanish explorers in 1792, has a  population of  about 1,200 residents.  This magical spot and neighboring Ucluelet are hangouts for travelers seeking off-the-grid getaways.  While our purpose in visiting Tofino is NOT to surf its 22 miles of beach coast, we hope to capture its reputed oceanfront where winter waves and rains slam the coast, depositing majestic sprays of water.  Rain jackets, rain pants, and waterproof Keen shoes packed?  Check!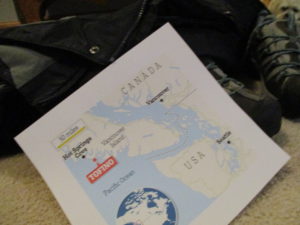 Vancouver lies in a rainforest and the coastal ocean waters maintain an average of  50 degrees.  We've kayaked off the eastern shore's Inner Passage and explored the southern city, Victoria–the capital of British Columbia.  So, now it's time to check out the western coastal region.  The island is rich in First Nation culture and we hope to immerse ourselves in the story of the First Nations who settled the region.  We'll  check out some restaurants and historic and cultural venues as well.
It's a bit of a challenge to get to Tofino.  From Des Moines, we'll fly to Vancouver (via Dallas), rent a car, and then drive to the Tsawassen ferry where we drive aboard and cross the Georgia Strait to Nainamo.  From Nainamo, it's a two-hour drive to Tofino.  Heavy rains have reportedly washed out part of the main route, so we will be taking a detour route there. Three days in the Tofino area, then we'll drive back southeast and spend several days in downtown Vancouver.  While some of our friends have teased us about travelling in the wrong direction (of course they're right–Florida is MUCH warmer in the winter than Iowa) we are accepting Mother Nature's challenge to brave the western Vancouver Island coast during winter.