Tofino–A Sunny Surprise
The first leg of our Canadian flight–American Airlines flight #1135–lifted off on time:  5:53 from Des Moines International Airport.  The second leg left the Dallas Fort Worth Airport at 9:00 a.m. and arrived at the Vancouver International Airport at 11:42 a.m. (Pacific Standard Time)  Walking through the Vancouver airport is a visual feast with large images of native animals–bear and elk, massive pieces of First Nation art, and "waterfall walls."  After completing the customs entry paperwork and exchanging our money to Canadian cash at a 1.25% exchange rate, we picked up our luggage and our Nissan Sentra rental car from Alamo.  Canadian Highways 99 and 17 led us to Tsawwassen where we paid $88.50 for a ticket to transport us and our car on the Queen of New Westminster Ferry to Nanaimo.  The ferry left port at 3:15 p.m. and we had a scenic two-hour ferry ride watching the sun set over the Georgia Strait.
The drive from Nanaimo to Tofino was fascinating, but slow.  A full moon illuminated the highways we took (Highway 19 North and Highway 4–also called the Pacific Rim Highway–West).  In the moonlight we viewed the Vancouver Island Ranges, tall snow-capped mountains, dotted with giant Douglas Fir, cedar, and aspen trees.  Sign after sign cautioned us to take the mountain curves slowly, hence the four-hour trek from east-to-west across the island.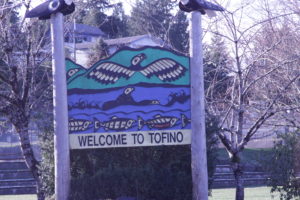 Our Tofino surprise came the next morning when we awoke at our hotel, the Tin Wis Best Western Resort to a beautiful sunrise.  Usually rainy stormy weather is the norm this time of year, but we were fortunate to have a clear view of the tall cedar trees and ocean beach front some fifty yards from our hotel room.  Were we disappointed we didn't arrive during a pounding winter rain?  Not all all.  The cool dry weather afforded us more opportunity to hike outdoors and enjoy sightseeing.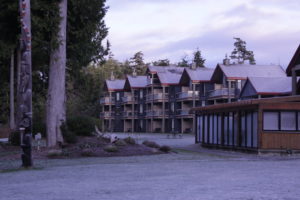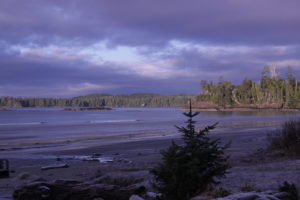 At a tasty breakfast in the Tin Wis Lodge Restaurant, we learned "tin wis" means "calm waters" in the Tla-O-Qui-Aht language.  The restaurant and lodge are located on Mackenzie Beach, one of the most protected beaches on the western island coast.  Traditionally, Mackenzie Beach was a place where whale hunters and seafarers could safely land their crafts on the rugged coast.  Once called "Nootka," the First Nation owners of this hotel are now officially part of the Tla-O-Qui-Aht First Nations.
The town of Tofino is situated on a bluff overlooking the ocean.  At the bluff's base are a marina and dozens of moored fishing boats.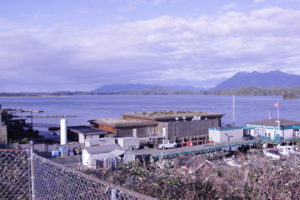 An art gallery on Campbell Street features striking First Nation art prints by Canadian artist Roy Henry Vickers.  The entire gallery storefront is designed in First Nation imagery.  Just down the street, Rubio's, showcases jewelry made from Polish amber–beautiful stones in a variety of colors are set in well-designed silver settings.  We visited other tourist shops and galleries and snapped several photos of the striking vistas–ocean-waters framing mountains.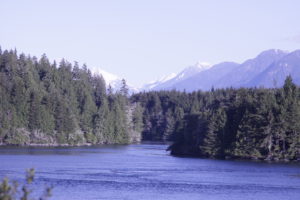 Outside Tofino, along the Pacific Rim Highway, are numerous signs pointing out roads that lead to various ocean beaches.  We followed Chesterman Road to a parking lot where we parked and hiked to Chesterman's Beach.  The vast sandy beach was dotted with shells and driftwood.  We noticed several surfers were riding the waves in the chilly waters.  Other beachcombers were bicycling or tossing balls for their dogs to retrieve.  A unique feature of Chesterman's Beach is its natural tombolo just opposite Frank Island.  The tombolo is an unusual geographic phenomenon that extends outward from the shore and connects to an island.  The offshore island or stack bends the incoming waves around it so that the waves' energy sweeps sand onto the tombolo from both sides.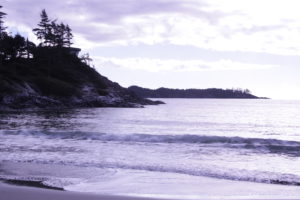 After a drive down Osprey Lane to see giant cedar trees and other rain forest greenery, we ate dinner in Tofino at Wolf in the Fog.  The restaurant offered a varied menu and we were highly pleased with our selected entree–Szechuan Beef Brisket which featured tender beef brisket and Chinese cabbage salad served atop a scallion pancake. "Tin vis!"